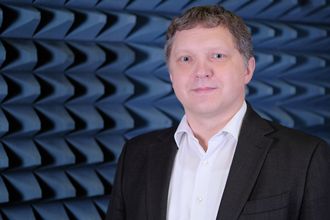 It is my great pleasure to welcome you to the sixth IEEE MTT-S International Conference on Microwaves for Intelligent Mobility (ICMIM), held in Linz, Austria, on April 20-21, 2020. ICMIM covers all key enabling technologies for intelligent mobility, from components, via circuits and systems, towards signal processing and offers a gathering place for those in industry and academia who work on intelligent mobility facilitated by RF/microwave/mm-wave related technologies.
Intelligent mobility is rapidly becoming a major area of research and development, spurred in large part by advances in the automotive industry. Highly autonomous vehicles will be the wave of the future, and represent one of the most exciting areas of research, with semi-autonomous and fully autonomous implementations already taking place in many locations. Beyond vehicle autonomy, microwave systems play a major role in enabling intelligent mobility, ranging from airborne applications such as in-flight connectivity enabled by phased array technologies, in-vehicle health and activity monitoring, RFID tags for localization and tracking, and drone navigation and collision avoidance, among many other applications.
Furthermore, with 5G—the megatrend in communications—another new technology is reaching out to mm-wave frequencies and enabling a bunch of new applications for localization and real-time machine control in industrial applications as well as car to infrastructure communications for smart traffic control. Thus, with 5G sensing and communications applications are melting together.
After successful conferences in Heidelberg, Germany in 2015, San Diego, US in 2016, Nagoya, Japan in 2017, Munich, Germany in 2018, and Detroit, US in 2019, ICMIM returns to Europe again, and for the first time to Austria in the heart of Europe.
The conference will be held at the young and modern campus of Johannes Kepler University Linz. Linz is centrally located in Austria, between Salzburg and Vienna, both away only a short ride by express train. Linz has transformed into a modern city and the world capital of electronic arts (Ars Electroncia) with numerous restaurants, parks, museums, sporting and recreation areas.
I am looking forward to seeing you in Linz, Austria!
ICMIM 2020 General Chair
Andreas Stelzer, Johannes Kepler University Linz, Austria